Overwhelmed by the possibilities when you face window curtains selection? This article will help you find the right window treatments for every area of your home. Whether you're wondering how to hang your curtains the right way or wondering where to buy curtains and drapes, this guide will guide you through every decision.
If you decide that curtains are right for the room, we'll guide you in selecting the right fabric, and curtain rod to complete the look. Then, consider blackout curtains to create a bedroom fit for sleeping or plush curtains to create a luxurious look in your living room.
Not sure if curtains and drapes are the right choices? Don't be afraid to choose different window treatments for different rooms. Heavy curtains may look beautiful in your formal dining room, while roller blinds will work best in your child's room. Consider all of these curtains to take your home decor to the next level.
How to Choose Curtain Fabric, Color, and Pattern
1. Texture
If you choose curtains, considering the atmosphere of the room will help you choose the right texture. For a formal space, there is heavy silk or velvet; both are dry clean only. More practical (and often washable) options include silk rayon blends and cotton gauze. For a casual feel, there are wavy linens (usually dry clean only) and metal links. Cotton and cotton blends can be paired with any type of trim and bring a crisp, neat feel, just like wool or wool blends that have no season.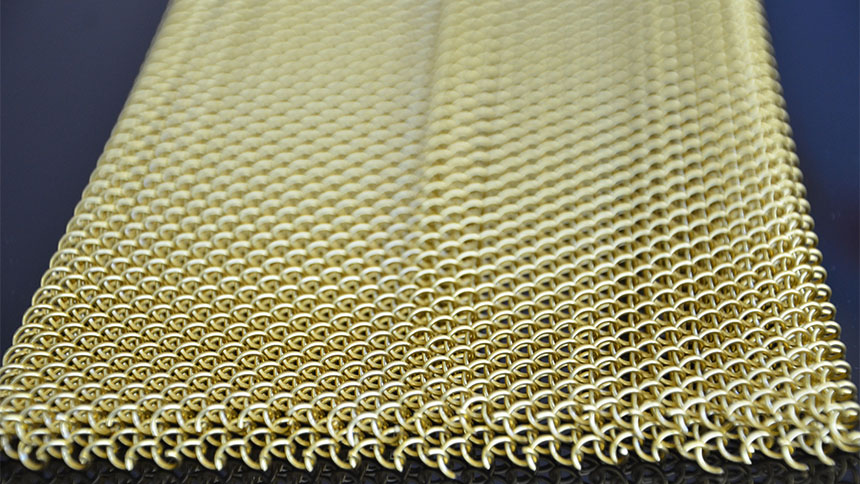 2. Colors
You need to decide if you want the curtain to blend with the decor or if you want it to stand out. If you want to blend, choose curtains that are the same shade as the walls but darker, or choose a subtle color that is not dominant in the room (like the pastel shades of a rug). Bold colors will work like an exclamation point (if you want to add some surprise). Remember, too, that in a space where the sun shines through unlined curtains, color will infuse the room. Blue can be eerie; pink is cheerful.
3. Prints and patterns
A rule of thumb: if you have patterned furniture or bedding (or a very delicate rug), stick with solid-colored curtains. If you have solid-colored furniture or bedding, consider patterned curtains. For a subtle style and vibrancy, choose a small, neutral print, such as dots or paisley, that looks like texture from a distance. A large, patterned print in a color associated with an existing decor is bold but can be spectacular.
How Long Should the Curtains Be?
Unless there is a radiator or a very deep bay window in the way, a length to the floor is the best option. Ready-made panels are available in lengths from 63 to 144 inches. Measure from the floor to where you want to hang the rod and take the whole thing. You can have them sewn together by a dry cleaner if needed. You'll get the most stylish look if the fabric is in contact with the floor (or window sill or radiator). Curtains that are too short can look dull and out of place, like high water.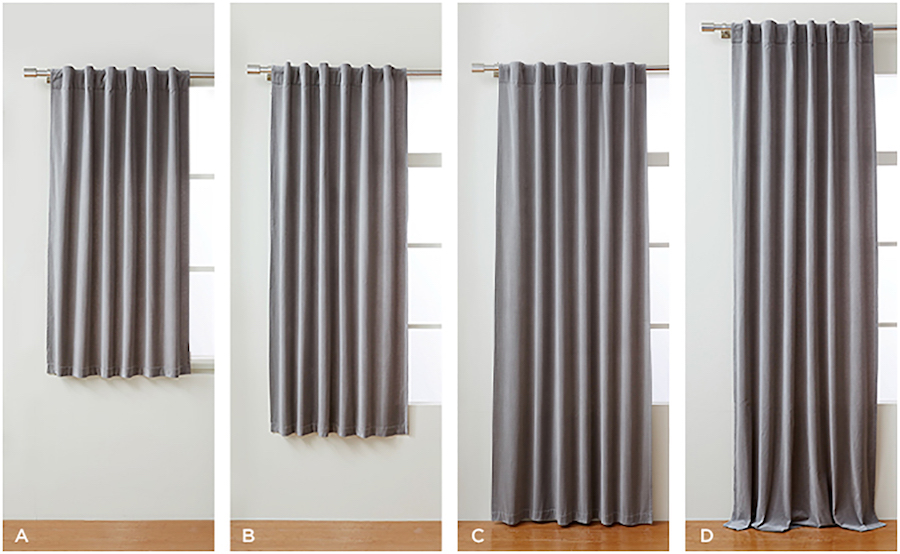 Here are two surefire ways to do it.
1. Just touching the floor or window sill.
This look is classic and tailored; it makes sense if you open and close your curtains often (they will easily fall back into place every time you move them). The fabric should just touch the floor or hover 1/2 inch above. This is also a great way to do cafe curtains (short panels that only cover the lower part of the window and touch the sill), where long curtains are not practical in places like kitchens and bathrooms.
2. Slightly broken on the floor.
Curtains that extend 1 to 3 inches across the floor are another stylish option. They are looser than those curtains that graze the floor (pictured left), but they still have a tailored feel – think a pair of dressy pants. If you have uneven floors or are concerned about precise measurements, this style is more acceptable. In a formal room, exaggerated closures – 6 inches or so of fabric pooling on the floor – look romantic, but are also high-maintenance. They need to be cleaned more often and must be readjusted every time you vacuum or the cat lies on them.
How Wide Should the Curtains Be?
To ensure that the curtains appear wide and draped when closed, they should be a combination of 2 to 2.5 times the width of the window.
Exceptions:
1. If you hang the curtains just to frame the window and don't intend to close them, you can reduce the width to 1.5 times. Pleated curtain panels have built-in fullness, so their width should more or less match the span you're covering.
2. The curtains are just for decorative use, such as our link chain curtain or something similar, then the exact window size would be okay.
Where Should the Curtains Be Installed in Relation to the Window?
Generally speaking, hanging curtain brackets on the wall above and outside the window molding looks best because it allows the fabric to fall gracefully. If you have detailed window frames that you don't want to cover, interior mounting (hanging the curtain inside the frame, just as you would with a tension rod) is fine.
Here are two hanging techniques that decorators like to make the most of their windows – you can choose just one technique, or use both on the same window.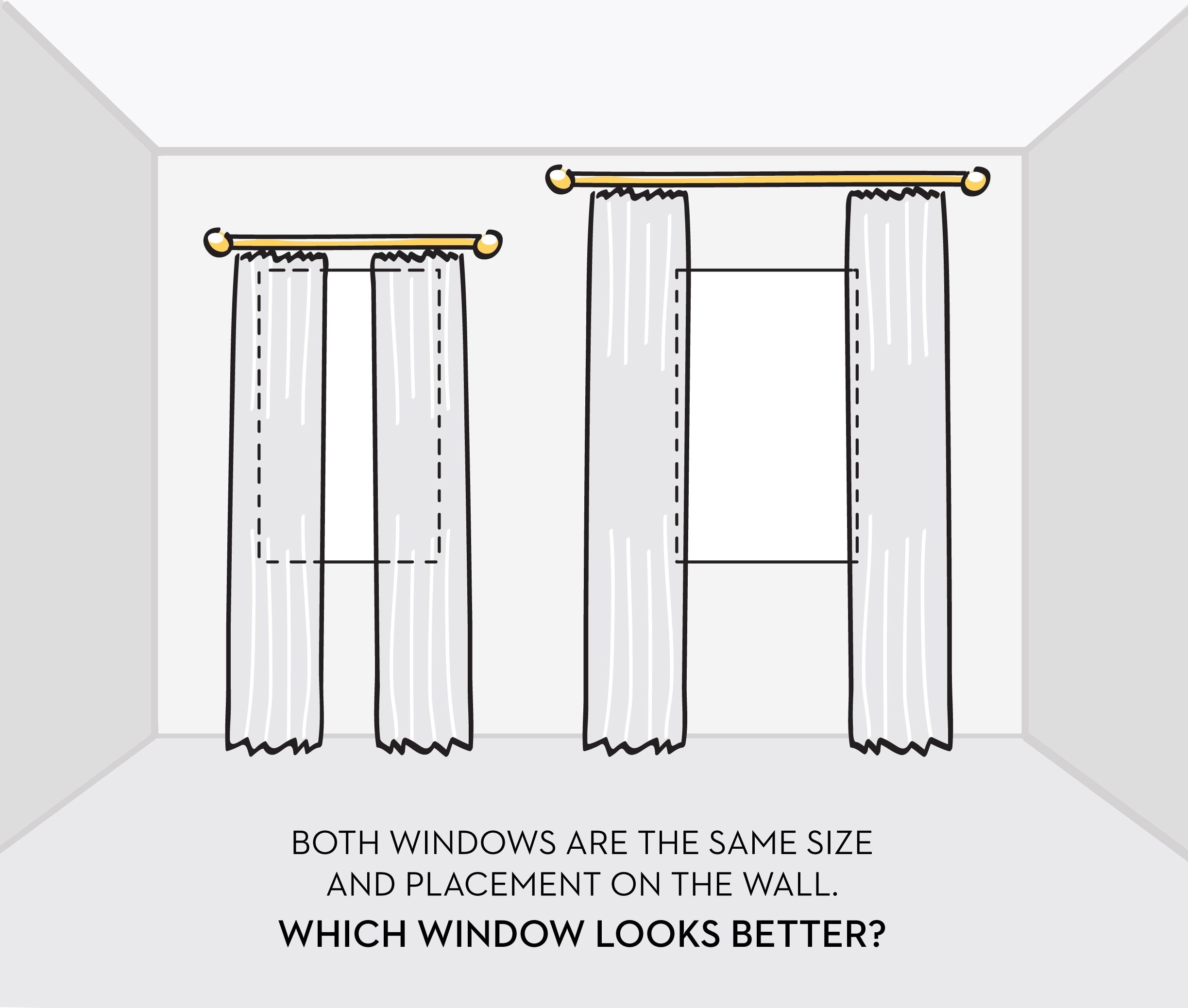 1. Hang the curtain above the window frame
To create the illusion of a taller window, install the curtain rod 4 to 6 inches above the window frame – or midway between the frame and the ceiling. (But within reason, don't go more than 8 inches above the window frame, or it will look jarring.) A track mounted on the ceiling also extends the length of the window. Be sure to take into account the extra fabric when measuring.
2. Hang the curtains wider than the window frame
Hang curtain rods 3 to 6 inches beyond the window frame on either side to make the window feel more spacious and allow extra light in when the curtains are open (fabric hangs on the wall without blocking the glass). You can also use this plan to reveal a beautiful look. In this case, you may want to leave up to 12 inches on either side. Remember to adjust your width measurements for this look.
What Type of Curtain Rod Should I Use?
Decorative curtain rods should be related to the style of the room. Those that are completely hidden from view can be chosen based on function only.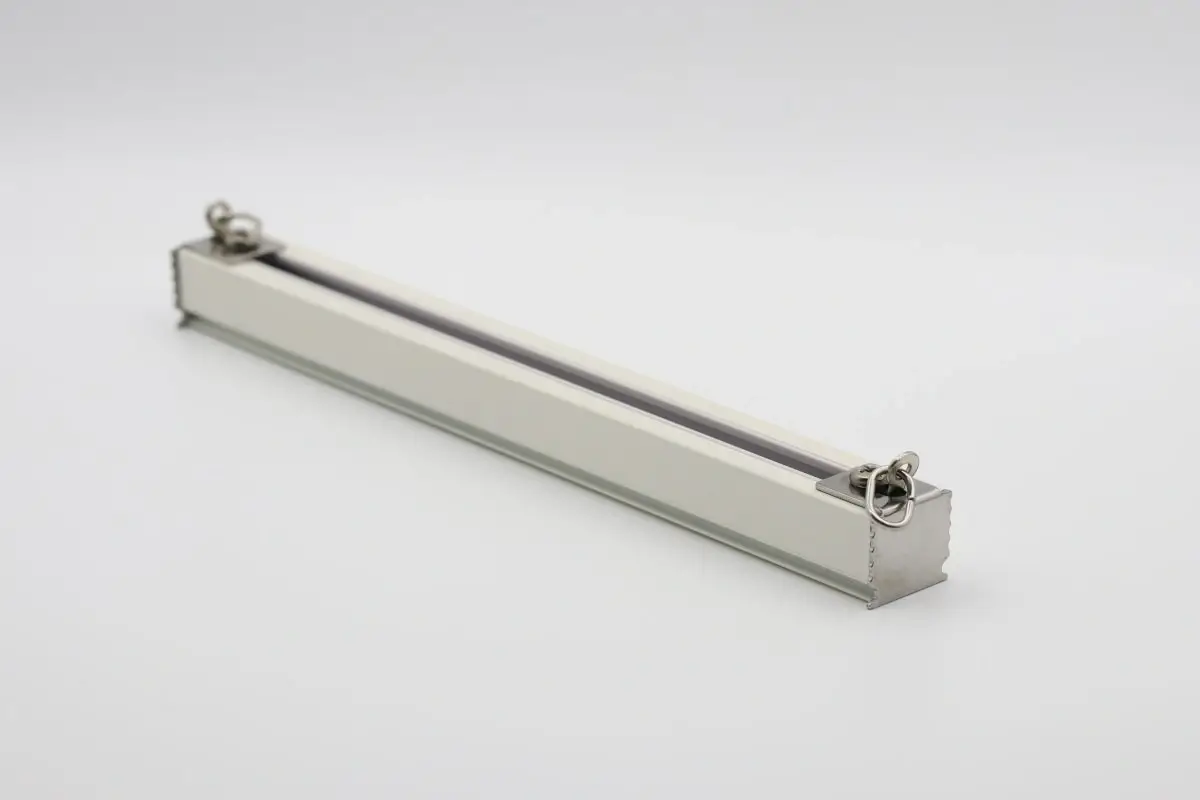 The following are common choices.
1. Classic Rods
An adjustable rod, usually with decorative end caps (finials), is secured to the wall with brackets. Match the metal to the rest of the trim in the room. If you want to layer your curtains, you can get a double curtain rod.
2. Return rod
An adjustable U-shaped rod that screws directly to the wall. The curtain panels wrap around the curved sides, making it a good solution for blocking light.
3. Track Rods
The curtain hook hangs on a pulley inside the track. They can be mounted on the wall or ceiling. Some tracks resemble rods with finials, hiding all the moving parts in the rod. The curtains can glide effortlessly.
4. Tie Rods
This is the simplest, cheapest but least sturdy option that adjusts to fit inside the window frame without any hardware. Bare bones, it is only suitable for light panels or cafe curtains. They are also a very affordable option and ideal for rental apartments.
How to Install Curtains
A handyman can hang your curtains for you. Expect to pay between $55 and $95 per hour, depending on where you live. It takes about 20 minutes per window for a basic curtain rod with brackets and 45 minutes per window for a track rod.
If you're willing to do it yourself, it's not difficult to hang ready-made curtains. Rods usually come with mounting hardware and instructions. You may need to purchase the rings separately(we will prepare all of the above accessories if you purchase from us). In addition to this, you will need a ladder, a tape measure, a pencil, a level, a handheld drill, a screwdriver, and a stud finder to hang the curtains. If you don't have studs where you want to anchor the brackets, use elbow bolts instead of screws. You can check with our sales.
Where to Shop for Curtains
T&F Metal Accessories Co., Ltd specialized in the production of metal curtains. Such as ball chain, bead chain, ball chain curtain, metal drapery, metallic cloth, snake chain, brass chain, aluminum chain, baby link chain screen, copper chain, twist link chain, chain connector, necklace finding, keyring, metal curtain accessories.
Each material can be customized with your specific, wall or ceiling hanging, straight shape strings or curved shape strings. Pls ask for more information from our metal curtain experts, He(she)will always be patient to give you more details.